B/ SCANBLOCK FOR BUSINESS PROMOTIONS - CUSTOMIZED
The Perfect GIFT Card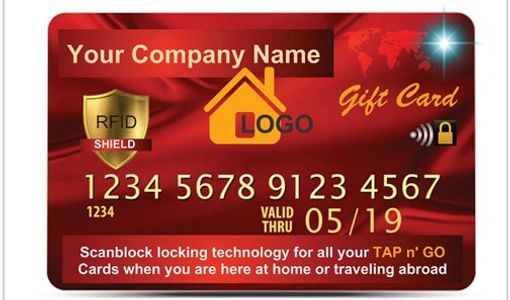 It's a

Gift Card

, a

Business Card

, a

Show Card

, a

Promotional Card

and a

Referral Card

...

all built in to ONE Card

that can continue to generate leads for you for years to come, because the Card will be customized

with your Company

Name, LOGO and Promotional Message

. Most important,

this is a Card Customers don't want to do without

and that means it will stay in the wallets and purses of your customers, all the while protecting them against electronic pick-pocketing.

Each time they show someone, your Company gets the

credit, the recognition

and

the kudos

for doing something kind and caring for your customer ... and that can go along way in building loyalty that will likely result in more customers coming to your place of business on location and online.

There has never been a promotional card product like

SCANBLOCK ...

EVER

!

Our consumer polls show that

94%

of Cardholders will choose to

SHARE

your customized card within the

first 24 hours

of receiving, by showing and explaining the

Protection value

of their

SCANBLOCK

Card to family, friends and co-workers, even acquaintances and community folks striking up a conversation while waiting in a bank line for example, or medical patient lounge, on a plane or in a grocery store line, or while in commute.

Even while walking your dog in the park when meeting up with other dog walkers. People feel the

NEED

to share this security information with others.

The

SCANBLOCK

Card ... with your Company Name imprinted on the Face side of the Card can speak for you almost everywhere. The Perfect

REFERRAL

Marketeer! Every customer who carries the

SCANBLOCK

Card will inadvertently become an invaluable sales person for you ... keeping your customers loyal and adding more customers to your base for years to come.
Find out more
The SCANBLOCK Technology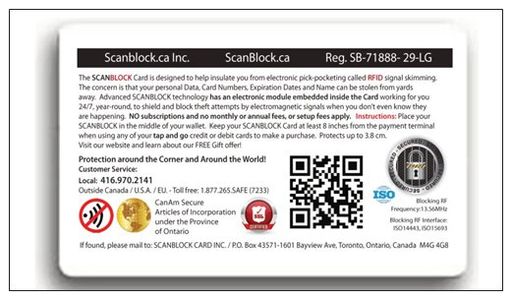 SCAN

BLOCK

kept in the center of the wallet, effectively breaks the signal so the criminal skimming attempt is shielded and blocked as close as 3.8 cm. Your private information has been Protected! This new Smart SCAN

BLOCK

technology has a passive electronic module embedded in the Card that breaks the 13.56 MHz signal that all Credit Cards and Debit Cards carry to make shopping quicker and more convenient ... with their TAP & GO contactless features.



Industry experts say

; as important as a smoke alarm is for the safety and protection of your family and your home, SCAN

BLOCK

is equally as important ... for the safety and protection of you and your family's identity. SCAN

BLOCK

helps to eliminate the real possibility of security breach hacking.

Imprinted Cards

"Compliments of your Company Name"

or we'll create your custom design.